LNG 2021 Congress Networking Leaderboard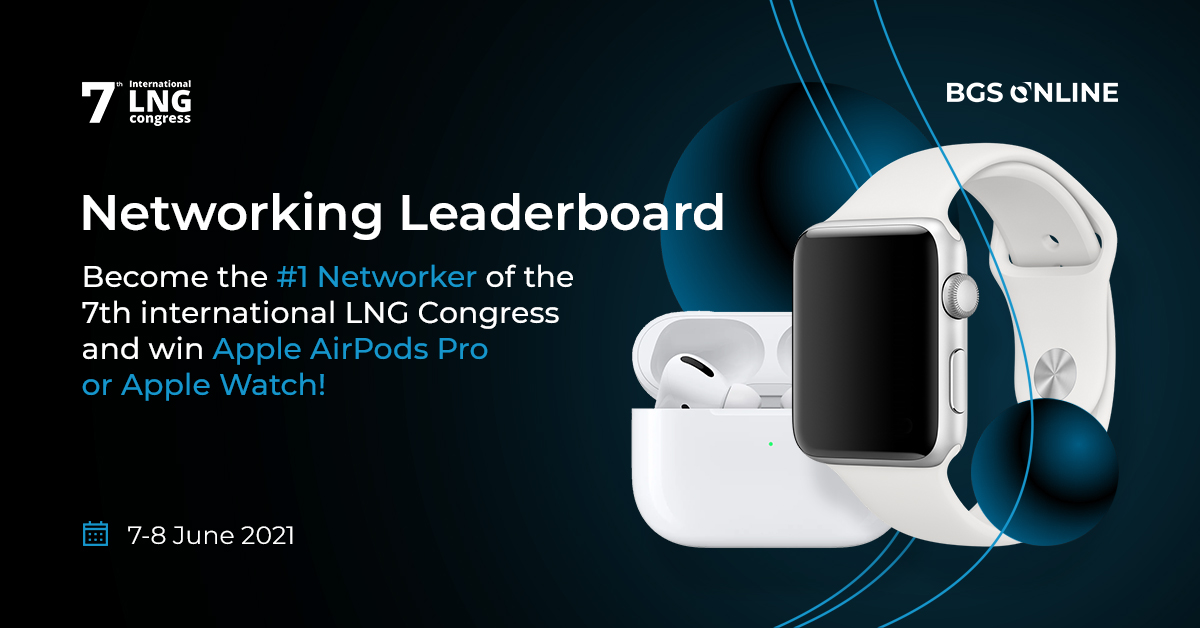 Become the Networking Leader of the 7th international LNG Congress! Increase your score by participating in Congress activities. Start more chats and video calls, visit more stands, join more sessions to win Apple AirPods Pro or Apple Watch!
HOW TO WIN?
You will automatically earn points by:
Logging to the BGS online

Сhoosing the sessions you want to attend

Attending the sessions

Visiting exhibitors booths

Attending B2B meetings

Visiting sponsors profile

Starting a chat
THE PRIZES
Leader of Day 1 - AirPods Pro

Leader of Day 2 - Apple Watch Series 6
The Winner of the Day will be announced at 16:00 PM (CET) on BGS Online Live Feed. Our manager will contact the winners regarding the prize delivery.
The Leaderboard will update approximately every 3 hours.
| | | |
| --- | --- | --- |
| # | Name | Points |
| 1 | Rene Bunskoek | 698 |
| 2 | Simos Efthymiadis | 504 |
| 3 | Claudio Fecarotta | 427 |
| 4 | Asim Riaz | 345 |
| 5 | Hina Shakil | 274 |
| 6 | Riccardo Brizio | 222 |
| 7 | Regis Prévost | 175 |
| 8 | Cristina Pérez Paz | 166 |
| 9 | David Wendel | 162 |
| 10 | Luis Haro | 151 |
| 11 | Javier Urricelqui | 147 |
| 12 | Stephan Anger | 132 |
| 13 | Javier Martínez González | 128 |
| 14 | Tobias Eckardt | 127 |
| 15 | Fatma Kabaoglu | 121 |
| 16 | Jo Zhou | 119 |
| 17 | Sergi Balboa | 116 |
| 18 | Luca Gazzera | 95 |
| 19 | Eric Chen | 94 |
| 20 | Ilker Misirli | 93 |
| 21 | Santiago Dominguez | 84 |
| 22 | Erman Salih Baki | 79 |
| 23 | Thomas Bösche | 70 |
| 24 | Adrian Wronski | 68 |
| 25 | Rastislav Nemec | 65 |
| 26 | Toby Chancellor-Weale | 61 |
| 27 | Rui Lopes | 60 |
| 28 | Anna Kotlewska | 59 |
| 29 | Emilio Ciampa | 57 |
| 30 | Kjell Wouters | 55 |
| 31 | Falak Barot | 53 |
| 32 | Philippe Lartigaud | 52 |
| 33 | Yousif Abualsoud | 47 |
| 34 | Juan Romero | 46 |
| 35 | Laurent Lajeunie | 46 |
| 36 | Giancarlo Geninatti | 45 |
| 37 | Pablo Ozaeta | 44 |
| 38 | Shuji Tahara | 43 |
| 39 | Uwe Becher | 43 |
| 40 | Cansu Oztas Arslan | 42 |
| 41 | Grigoris Exarchos | 42 |
| 42 | Karl-Heinz Hammes | 41 |
| 43 | Kevin Roschitz | 41 |
| 44 | Leslie Masters | 39 |
| 45 | Julian Terpitz | 38 |
| 46 | Saul Paunero Asenjo | 38 |
| 47 | Ricardo Aguirre | 37 |
| 48 | Philippe Heisch | 36 |
| 49 | Albert Marfà | 35 |
| 50 | Ricardo Santos | 35 |
| 51 | Alexander George | 34 |
| 52 | Gema Rico | 34 |
| 53 | Jan-Thijs van Wijnkoop | 34 |
| 54 | Lorenzo Disaro | 34 |
| 55 | Pratik Mangukiya | 34 |
| 56 | Ryan Lin | 33 |
| 57 | Felix Schwarz | 31 |
| 58 | Mohamed ELSaadawy | 31 |
| 59 | Cristina Perez | 30 |
| 60 | Dr Hung Soon Chua | 30 |
| 61 | Dirk Band | 29 |
| 62 | Momoyo Yuki | 29 |
| 63 | Sergio González | 29 |
| 64 | Thomas Van Riet | 29 |
| 65 | Johannes Dziuba | 28 |
| 66 | David Bru | 27 |
| 67 | Dr. Symeon Kassianides | 27 |
| 68 | Laurent Hamou | 27 |
| 69 | Marcin Szczudło | 27 |
| 70 | Pierre-Jean Bernardi | 27 |
| 71 | Andreas Pentaliotis | 26 |
| 72 | Klaudiusz Stolarski | 26 |
| 73 | Silvia Saggiori | 26 |
| 74 | Sven Goethals | 26 |
| 75 | Andrea Condotta | 25 |
| 76 | Giorgio Berettini | 25 |
| 77 | Mauro Nicoletti | 25 |
| 78 | María García-Mancha | 24 |
| 79 | Paolo Bolognese | 24 |
| 80 | Rafał Pejo | 24 |
| 81 | Akihiko Taniguchi | 23 |
| 82 | Jeremie Gaillard | 23 |
| 83 | Jesus Losada Maseda | 23 |
| 84 | Oliver Steinmann | 23 |
| 85 | Praveenkumar Chinni | 23 |
| 86 | Raúl Herrera Flores | 23 |
| 87 | Sidrit Tako | 23 |
| 88 | Dimitri Stefanou | 21 |
| 89 | Endrit Kapaj | 21 |
| 90 | Florimond Dijkinga | 21 |
| 91 | Hiroto Takeuchi | 21 |
| 92 | Maxim Schwarz | 21 |
| 93 | Tom Firlefyn | 21 |
| 94 | Ángel Rojo | 21 |
| 95 | Alvaro Delicado | 20 |
| 96 | Dylan Perry | 20 |
| 97 | Joan Prades Adell | 20 |
| 98 | Maarten Oskam | 20 |
| 99 | Rui Serrano | 20 |
| 100 | Dori Barakat | 19 |
| 101 | Francesco Massa | 19 |
| 102 | Robert Sumantri | 19 |
| 103 | Stuart Wallace | 19 |
| 104 | Anton Marco Fantolini | 18 |
| 105 | Anton Postnikov | 18 |
| 106 | Henrik Domanovszky | 18 |
| 107 | Imelda Rusli | 18 |
| 108 | Olivier Benyessaad | 18 |
| 109 | Riccardo Pontiggia | 18 |
| 110 | Tomoaki Matsuo | 18 |
| 111 | Aaron Chapman | 17 |
| 112 | Andrew Jobling | 17 |
| 113 | Jeremy Hart | 17 |
| 114 | Marco Chierichetti | 17 |
| 115 | Michael Blondin | 17 |
| 116 | Alla Ilina | 16 |
| 117 | Andrew Patton | 16 |
| 118 | Gavin Peacock | 16 |
| 119 | Johan Lillieskold | 16 |
| 120 | Luca Chiodetto | 16 |
| 121 | Andrzej Żero | 15 |
| 122 | Barrie Marsden | 15 |
| 123 | Daniele Tangorra | 15 |
| 124 | Faris Mustaffa | 15 |
| 125 | Jerome Berault | 15 |
| 126 | José Enrique Murcia | 15 |
| 127 | Marina De Llano Balcells | 15 |
| 128 | Vaidotas Bručkus | 15 |
| 129 | Alexandra Strupinskaya | 14 |
| 130 | Arif Ataman | 14 |
| 131 | Daniel Villa | 14 |
| 132 | Jan Weimann | 14 |
| 133 | Pedro Ruiz | 14 |
| 134 | Rjay Borja Soliman | 14 |
| 135 | Sonia Rodeghiero (Skandrani) | 14 |
| 136 | Tina Kim | 14 |
| 137 | Aleksandr Shevchuk | 13 |
| 138 | Amine El Kadiri | 13 |
| 139 | Ana Maria Castelblanque Gimenez | 13 |
| 140 | David Clark | 13 |
| 141 | Hashim Hajji | 13 |
| 142 | Julia Costea | 13 |
| 143 | Philip Braunschweig | 13 |
| 144 | Ravil Gelmanov | 13 |
| 145 | Tiago Corvo | 13 |
| 146 | Tiago Leal | 13 |
| 147 | Andrey Kulikov | 12 |
| 148 | Bernat Vidal | 12 |
| 149 | Eduard Jiros | 12 |
| 150 | Giacomo Farabollini | 12 |
| 151 | José Augusto Gomes Campos | 12 |
| 152 | Julia Maya | 12 |
| 153 | Michael Wiskirchen | 12 |
| 154 | Sukhpal Basi | 12 |
| 155 | Wouter Koster | 12 |
| 156 | Christina Ranee Sevajee | 11 |
| 157 | Darsh Agarwal | 11 |
| 158 | Gabriele Laurino | 11 |
| 159 | James Cruickshank | 11 |
| 160 | José Cardenas | 11 |
| 161 | Marianna Landolfi | 11 |
| 162 | Michelle Liu | 11 |
| 163 | Arber Avrami | 10 |
| 164 | Chia Tsung Huang | 10 |
| 165 | Jason Vella | 10 |
| 166 | Kenji Mouri | 10 |
| 167 | Régine Portocarero | 10 |
| 168 | Cevdet Karasu | 9 |
| 169 | Ciro Garcia Armesto | 9 |
| 170 | Jesper Rulffs | 9 |
| 171 | Johann Lainer | 9 |
| 172 | Leif Birger Sture | 9 |
| 173 | Rafael Carvalheira | 9 |
| 174 | Raúl Cascajo | 9 |
| 175 | Takuro Sumi | 9 |
| 176 | David Tsitsishvili | 8 |
| 177 | Grigory Berdin | 8 |
| 178 | Manuel Lage | 8 |
| 179 | Mateusz Koszela | 8 |
| 180 | Michal Daczuk | 8 |
| 181 | Paul LIANG | 8 |
| 182 | Rawan Al-Awadhi | 8 |
| 183 | Alexander Kislov | 7 |
| 184 | Arturo Cruz | 7 |
| 185 | Christian Peter Hoepfner | 7 |
| 186 | Jani Keränen | 7 |
| 187 | Saji Khoury | 7 |
| 188 | Stefano Danna | 7 |
| 189 | Abdenour Benzouache | 6 |
| 190 | Bruno Mendes Chieza | 6 |
| 191 | Cecile Turcey | 6 |
| 192 | Charlie Harwood-Gould | 6 |
| 193 | Constantinos Aresti | 6 |
| 194 | Guilherme Silva | 6 |
| 195 | Jeong You | 6 |
| 196 | João Filipe Jesus | 6 |
| 197 | Koki Uruno | 6 |
| 198 | Mohamed El-Garhi | 6 |
| 199 | Nigael Lewis | 6 |
| 200 | Pablo García | 6 |
| 201 | Arrigo Vienna | 5 |
| 202 | Atsuko Tanaka | 5 |
| 203 | Gabriel Vale | 5 |
| 204 | Hakan Jubel | 5 |
| 205 | Jacek Nowakowski | 5 |
| 206 | Jakub Grzegorczyk | 5 |
| 207 | Kazuki Hirahara | 5 |
| 208 | Masaya Nunokawa | 5 |
| 209 | Mauro Paganelli | 5 |
| 210 | Motoki Yoshida | 5 |
| 211 | Piotr Michalczyk | 5 |
| 212 | Rasmus Hellman | 5 |
| 213 | Sylvie van Maris | 5 |
| 214 | Yukito Konda | 5 |
| 215 | Daniel Nicolini Breanza | 4 |
| 216 | Francis Cassar | 4 |
| 217 | Jun Ishikawa | 4 |
| 218 | Maarten Bouwman | 4 |
| 219 | Martin Baber | 4 |
| 220 | Oleg Erokhin | 4 |
| 221 | Svetlana Vorozhtsova | 4 |
| 222 | Yoshikazu Ichimaru | 4 |
| 223 | Claes Möller | 3 |
| 224 | Eduard Prodani | 3 |
| 225 | Evgeny Pronin | 3 |
| 226 | Heng-Yu Liao | 3 |
| 227 | Ingmar Liedke | 3 |
| 228 | Jordi Rizo | 3 |
| 229 | Mona Bhagat | 3 |
| 230 | Nicolas Droushiotis | 3 |
| 231 | Noor Nadhirah Mohamad Othman | 3 |
| 232 | Sung-Min Shin | 3 |
| 233 | Victoria Lund Mattsson | 3 |
| 234 | Ahmed Aboali | 2 |
| 235 | Alla Kiseleva | 2 |
| 236 | Andreas Koutsoulides | 2 |
| 237 | Bruno Meniccuci | 2 |
| 238 | David Reeves | 2 |
| 239 | Dr. Yiannis Parpottas | 2 |
| 240 | Francesco Muraca | 2 |
| 241 | Javier Gallo | 2 |
| 242 | Josef Navarro | 2 |
| 243 | Mariya Korableva | 2 |
| 244 | Muhammad Afiq Yahya | 2 |
| 245 | Raivo Veskus | 2 |
| 246 | Richard Gilmore | 2 |
| 247 | Rimantė Šerpytytė | 2 |
| 248 | Sally AbdelRahman | 2 |
| 249 | Tamara Martinez | 2 |
| 250 | Tetsushi Matsui | 2 |
| 251 | Vivek Chandra | 2 |
| 252 | Akzal Azraen Benyamin | 1 |
| 253 | Andrea Siri | 1 |
| 254 | Antonio Miranda Bonet | 1 |
| 255 | Arkadiusz Sekściński | 1 |
| 256 | Björn Munko | 1 |
| 257 | Carlos Maria Brañas | 1 |
| 258 | Christopher Stanik | 1 |
| 259 | Claudia Ravera | 1 |
| 260 | Davide De Bacco | 1 |
| 261 | Dora Yfantidou | 1 |
| 262 | Fatma Al Askari | 1 |
| 263 | Grzegorz Jurga | 1 |
| 264 | Hui Kin Wai | 1 |
| 265 | Ignacio Soneira | 1 |
| 266 | Jared Young | 1 |
| 267 | Jyoti Swarup Patnaik | 1 |
| 268 | Kotaro Izawa | 1 |
| 269 | Langtry Meyer | 1 |
| 270 | Luís Ornelas | 1 |
| 271 | Mattia Maritati | 1 |
| 272 | Michael Schaap | 1 |
| 273 | Muhammad Naveed | 1 |
| 274 | Raul Podetti | 1 |
| 275 | Sergio Aquenza | 1 |
| 276 | Teimuraz Gochitashvili | 1 |
| 277 | Timothy Murray | 1 |
| 278 | Tom Pepper | 1 |
back to the news list