Asian LNG import: who to partner with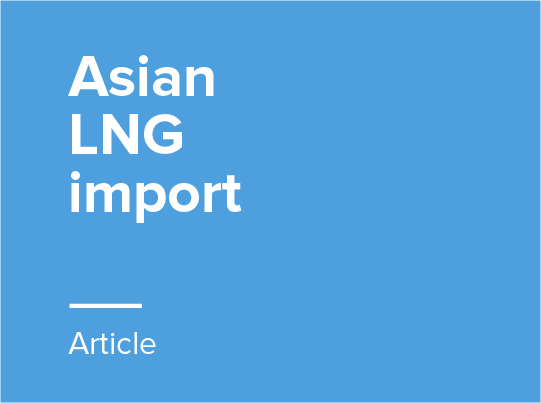 Asia is the largest gas importing region, with Japan, China, South Korea, India, and Taiwan being the biggest gas importers according to the 2018 World LNG Report by International Gas Union. Altogether they make up more than half of the global gas import. Asian markets have traditionally relied on LNG, which has been purchased under long-term contracts with pricing tied to crude oil prices. Now the development of reliable pricing indexes and market hubs in Asian countries becomes increasingly important. In these conditions the importers and partners need to react fast. Natalya Kuznetsova, the project director of the 5th International LNG Congress, on the brink of the event's anniversary celebration, lists recent changes in the Asian LNG market and—based on them—the most prospective directions for partnership.

Shift in Demand
Asian countries have a high demand for LNG as Taiwan and Chinese governments are striving to replace coal with natural gas for heating, power, industry, and transportation in order to reduce air pollution. This factor will stay the same but the demand growth will shift from Japan, South Korea, and Taiwan (JKT) to China, India, and South and Southeast Asia. According to Reuters' calculations, based on China's General Administration of Customs data, China has already overtaken Japan as the world's top natural gas importer.
JKT's share in global LNG trade is likely to decrease: in Japan, nuclear restarts are scaling down imported LNG, and South Korea gives priority to coal and nuclear power, which is cheaper than gas. Taiwan's LNG demand growth will be suppressed by its LNG-receiving capacity. Aiming at improving overall energy capacity, the Bureau of Energy of Taiwan has targeted at more than doubling its LNG receiving capacity to 32.7 million tons by 2025. CPC Corporation is planning to construct a third LNG receiving terminal capable of handling six million tons of LNG per year, while Taipower wants to build a fourth LNG import terminal and gas-fired power station.
Being the largest gas importer, Asia stays in the focus of gas exporting countries, but now they should look for closer partnership with South and Southeast Asia, China, India—and in the long-term view with Taiwan.
Renewable Energy Growth
At the same time, in the long term, the growth of renewables is becoming a threat to gas: China today produces 130GW of solar power, and its hydropower capacity reaches 340GW making it the second energy source after coal (according to Reuters.com).
India is also focusing on renewable power. The country's solar energy capacity has almost doubled since 2016, reaching 19GW. Japan's SoftBank Group aims at building renewable energy plants in India with a total capacity of 20GW. The country's wind energy capacity has also increased to nearly 33GW.
Asia's third-largest producer of renewable energy is Japan, with its wind and solar total energy capacity of 82GW.
Vietnam's abundant water resources, including the Mekong River, contribute to renewable energy growth making the country Asia's fourth-largest producer, with about 18GW of capacity.
China aims at full transition to renewable energy and to halting coal usage, but China is not likely to complete this process within the next ten years. Now the country continues to increase the amount of imported LNG, creating a wider field for cooperation and prospects for new deals.
Regional Markets Development
The gas pipeline network in Asia Pacific is limited because of water barriers so there is no pipeline-based model for gas market hub development in the region. China has large pipeline interconnections with Kazakhstan and Myanmar. The pipeline infrastructure in Asia Pacific mostly serves internal markets, connecting LNG terminals to consumers, offshore production to onshore markets, or internal production to consumers.
India takes its part in creating a new energy security structure for its neighbours: state-run Petronet LNG Ltd is planning to set up LNG terminals in Myanmar, Bangladesh, Sri Lanka, and Mauritius at an investment of around $2.5 billion.
Also, Petronet, promoted by four Indian state-owned firms—GAIL Ltd, Bharat Petroleum Corp. Ltd, Indian Oil Corp. Ltd and Oil and Natural Gas Corp. Ltd—is exploring a similar opportunity in the Maldives. Japan invests in South Africa in order to have a back-up of where to relocate its facilities if there is no place for them one day.
Southeast and South Asia became important centers of LNG growth. India, Pakistan, and Thailand are developing additional LNG receiving facilities. Myanmar and Vietnam are set to announce their first import projects, while Singapore LNG is augmenting its cargo-handling capabilities. It is a good opportunity for exporting countries to expand their partners list and to find new markets in Asia.
We are going to be discussing the Asian market developments as well as international strategies and innovations at the 5th International LNG Congress, which is also the event's anniversary. We are gathering the representatives from the key LNG projects and leading companies: project shareholders, EPCs, LNG shipping companies, LNG trading houses, equipment manufacturers, and service providers to celebrate with us at the event.
Article by Natalya Kuznetsova, Project Director of the International LNG Congress
back to the news list