Accurate LNG mass and energy measurements from Emerson
As trading transactions points are growing and small scale increases significantly, Emerson provides accurate LNG mass and energy measurements, reducing financial risk for the operators.

Overall, the global LNG market is becoming more competitive, driven by increased supply and buyer demands for more flexibility.
EU strategy for LNG and storage is to make sure that all member states have access to LNG as an additional gas source and to enough storage capacity directly or through other countries. European Commission views LNG supplies as integral to diversifying sources of supply and improving energy security in the region.
The favorable environmental impact of LNG in meeting the EU long-term de-carbonization policy objectives, given the substantially reduces CO2 emissions of LNG when compared to conventional fuels sources is significant.
Forecast gas demand in Europe in 2035 is expected to be in a range from 540-570 bcm- contribution of LNG will become more and more important (25%+). 2017 is 15%.
Another important indicator is the quantity imported on large scale: in Europe, the import on 2017 has been 45.5 mt in 2017 with an increase of 18% over the previous year.
Historically LNG has been traded based on large scale / long terms contract; the market shows a constant increase of spot/short terms contract and small scale increases significantly.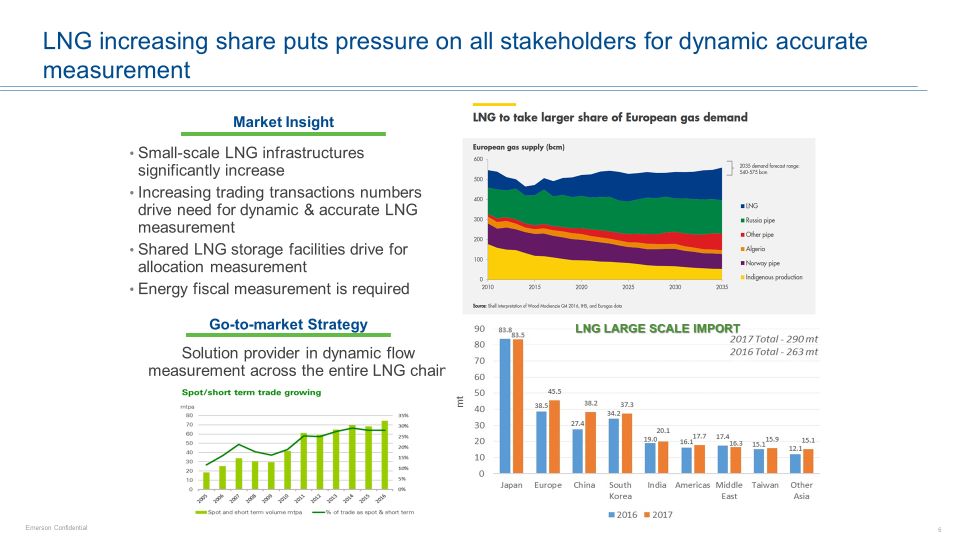 The nature of LNG business is changing.
Growing number of spot / short terms sales & small scale
New services offered by Terminal Operators determines increase of transactions points and so an increased demand of a dynamic measurement CT (financial risks reduction)
Accurate measurement requires an exact calculation of the mass transferred as well of the LNG quality to determine the Energy transferred (LNG contracts are based on Energy transferred)
Emerson is the Flow & Energy Solutions provider with more than 20 years' experience in the LNG chain applications who reduce your financial risks; our Coriolis (Micro Motion) Dynamic Flow measurement can reach an uncertainty of 0.35% in mass, it is validated by independent parties and comply with Global standards: NMI , MID , OIML R117; it is maintenance free, proven to be very stable and is based on water calibration which permit to the users to install and up and running by an
on-line zero calibration
, without necessity of external proving methodologies. Emerson delivers the services to comply with national Custody Transfer Legislation and complies with the recommendations of GIIGNL concerning proving of the installed flow meters.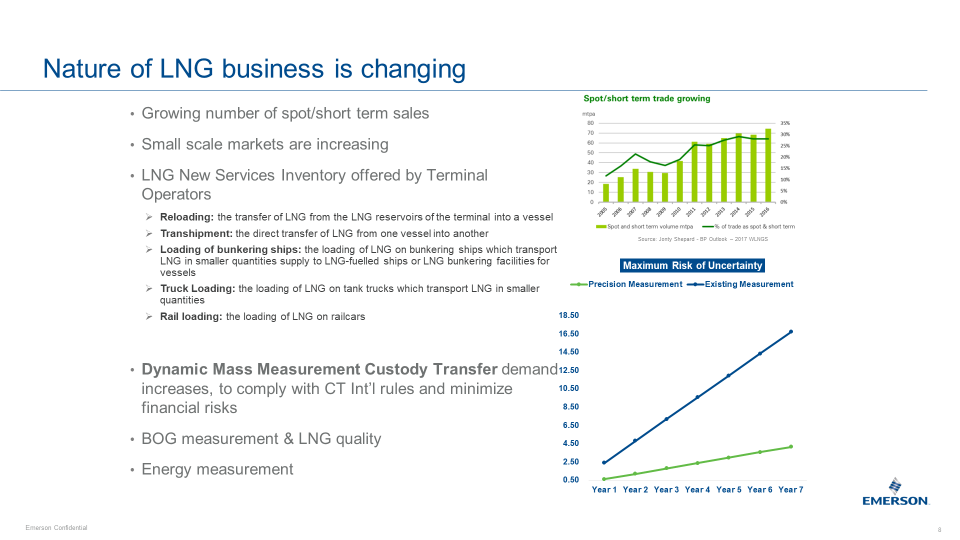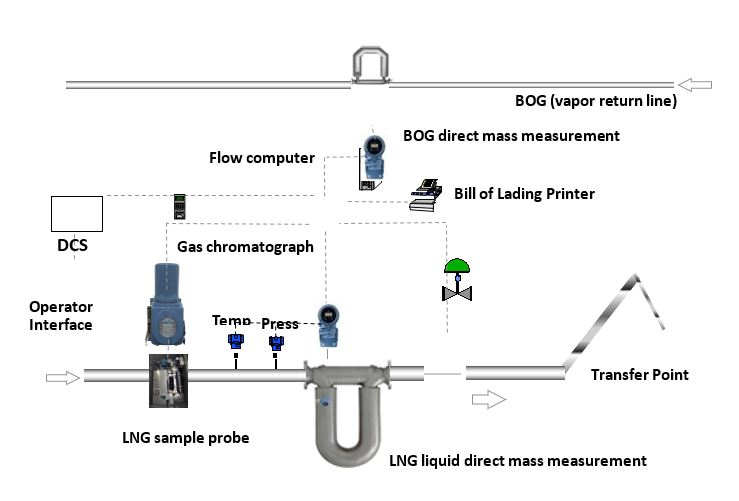 Ultimately, LNG transactions are based on energy and this implies a further measurement (calorific value) to obtain the effective energy transferred. Moreover, we all know how important is to determine the BOG: the customer deserves credit for the value of the LNG vapor that is returned to the seller. Emerson provides complete engineered packages and accepts full responsibility for the Custody Transfer Certification of whole measuring system and Energy calculation, while complying with Global Standards.
Emerson is your partner solution provider for LNG applications concerning products and custody transfer services. Emerson reduces your Capex and Opex.
―
For more information:
Emerson Automation Solutions
Italy:
Via Montello 71/73, 20831 Seregno (MB)
Tel.:
+393480195604
Contact person:
Giuseppe Bernardelli, LNG & Power Business Development Director Flow Europe
Email:
giuseppe.bernardelli@emerson.com
Website:
www.emerson.com
---
Additional options for you:
find out more about International LNG Congress at lngcongress.com
request marketing materials here

share the article in your social network using the buttons below and our tag #LNGCongress2020
back to the news list